Are you interested in research and social and technological innovation?

Do you want to improve your skills in project management?

Do you prefere to study at your own pace and does the form of e-learning suit you?
If you answered YES, you are right here! We offer you a freely accessible online course Excellence-in-ReSTI. CU students registred via SIS can get 2 credits for compleating each of 5 modules in this course.
What exactly does the abbreviation ReSTI stand for?
It means "Research, Social and Technological Innovation Project Management" and the course will present to you topics that are critical for management of projects focusing on research, social and technological innovations; you will become familiar with EU policies, as well as with topics associated with projects of social innovations, funding, IPR or marketing and communication.
Who is the course for?
The course is designed for anyone interested in learning more about project management in science and innovation, as well as for those who just want to expand their existing knowledge.
Typically, the course is aimed at aspiring project managers and project administrators in public and private organisations. The course may also be useful for scientists and graduate students. However, the know-how offered can also be used by representatives of civil society and the non-profit sector.
What is the format of the course?
The course is in the form of e-learning and can be found on the MOOC platform, which is similar in user experience to Moodle.

You can learn how to log in and navigate the course in the video.
Watch the video and learn more!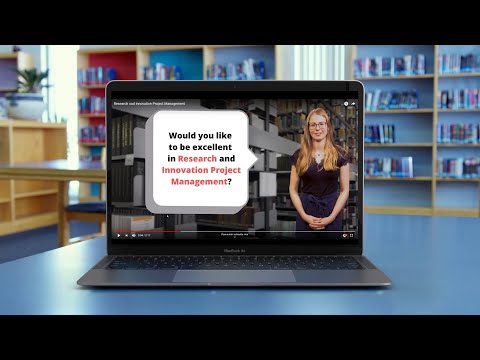 YOU CAN ► ENTER THE COURSE HERE.
What does the course contain?
The course consists of 5 modules, each with 3 to 5 parts.
What is the teaching method?
The individual parts of the modules are presented in an innovative Five Doors approach. This is a method developed based on Kolb's learning cycle and the Thiagi approach, which uses a system of "doors" as different ways of learning. You can learn more about this method in the presentation HERE.
Compleation of the course
CU Students
Participants outside the CU
Would you like to know more about the project?
The course was created by an international consortium of 11 educational and scientific institutions from 9 countries in the Danube region. In addition to Charles University, these were, for example, the University of Applied Sciences Burgenland, the University of Ljubljana, the School of Economics and Business, the University of Sarajevo, the University of Belgrade - Faculty of Economics and others. The complete list can be found at www.interreg-danube.eu/.
The project started in 2017 and its aim was to prepare this course so as to help improve the competitiveness of institutions in the Danube region in the acquisition and management of projects focused on research and social and technological innovation. You can learn more about the whole project HERE.